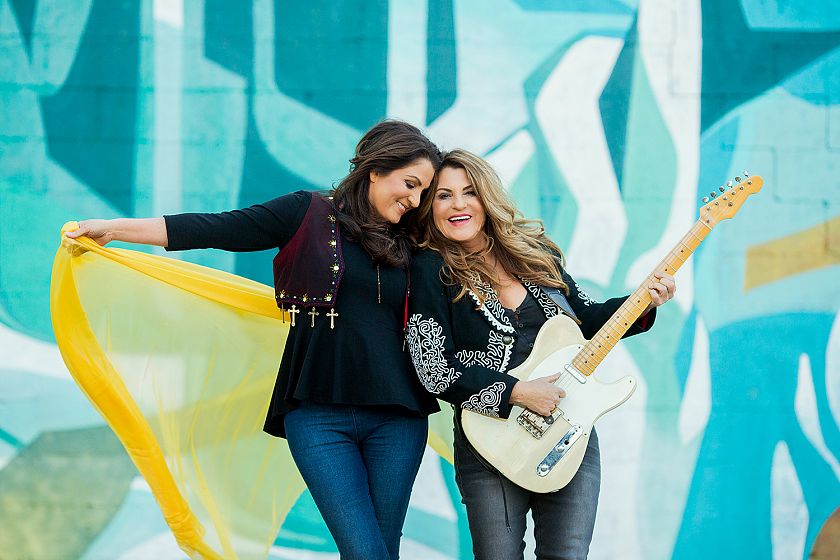 The Triplets
The Triplets
We're the Triplets
We are Vicky, Sylvia and Diana- born 7 minutes apart- we have been writing and performing music together since our father picked up a guitar and sang to us; we loved singing together as a family and thus our music career began!
Our parents, Jane & Pedro, left farming in Illinois in our early childhood to live full time in our father's native country -Mexico; giving us the gift of being bilingual and bi-cultural.
We emerged on the US music scene after winning the MTV Basement Contest in 1986 for the song "Boys". We were awarded a contract with Elektra Records, and released our first EP "Break The Silence".
In the early 1990s we were nominated for an American Music award for Best New Group for our Album " Thicker Than Water" (1991) and a Grammy Nomination for Best New Latin Pop Group for our album " Algo Mas Que Amor (1993)".
We returned to songwriting and recording in 2016 with our full length release " Independence Road " and followed up with two holiday releases "Christmas Time Is Here" (2018) and "Love is the Only Gold" (2019), which has marked a new musical era for us.
Vicky and Sylvia perform live as a duo. Diana contributes exclusively as a co-writer from her home base in Kauai -but our hearts still beat as one!
We look forward to releasing new work in 2020 including full length albums in English and Spanish.
Much love!
Sylvia, VIcky and Diana.
-------------------------
Hola, y saludos de Las Triplets!
Somos hermanas Vicky, Sylvia y Diana y nacimos con siete minutos the separación. Hemos estado presentándonos desde el momento de muy chicas que nuestro papa recogiò su guitar y así empezamos a cantar entre familia. Así empezó nuestra carrera de artistas.
Nuestros papas, Jane y Pedro, decidieron de ser granjeros agricultores que mejor querían que conciertos el mundo, y así de muy chicas fuimos a vivir en su país natal de mi papa- México!
Ese fue y sigue siendo un gran regalo de nuestros papa porque así crecimos siendo bilingües y viviendo dos culturas.
Inicialmente, el deseo de ser musical nos llevó a Nueva York, y surgimos a la escena musical en Los Estados Unidos como el éxito de un concurso nacional llamado "MTV Basement Tapes" en 1986 con el tema "Boys." Nuestras carrera se lanzo y seguimos con éxitos con Elektra Records cuando se lanzo "Break the Silence." En 1991 fuimos nominadas por American Music Award y nominados por Grammy como el Mejor Grupo Nuevo con el disco con Mercury Records en inglés " Thicker Than Water" que también cantamos en español con el titulo "La Fuerza del Parentesco" al que fuimos nominates El Mejor Nuevo Grupo Latin. Después de este enfoque decidimos concentramos en nuestros raíces latinos con el lanzamos el disco "Algo Mas Que Amor" in 1993 que nos brindó éxitos y la nominación de "Lo Nuestro."
Hemos estado activa siempre cantando y aunque decidimos tomar un descanso de la escena musical mundial, nunca demos de cantar, más lo que hicimos es ofrecer nuestra voces y canto a centros espirituales y a organizaciones altruistas con causas que ayudar al mundo.
Hora regresamos en 2016 con much energía escribiendo nuevos temas y lanzamos "Independence Road" y música para Navidad en 2018 con "Christmas Time is Here" que marca una nueva era para nosotras. En estos temas expresamos nuestra cultura latina y americana, nuestro enfoque personal espiritual y la pasión de vivir plenamente.
Vicky y Sylvia gozan de presentarnos en vivo y Diana sigue contribuyendo como autora de letra para los temas desde su casa en Kauai- nuestros corazones siguen latiendo juntas en harmonía.
Con mucho Amor,
Sylvia, VIcky and Diana.