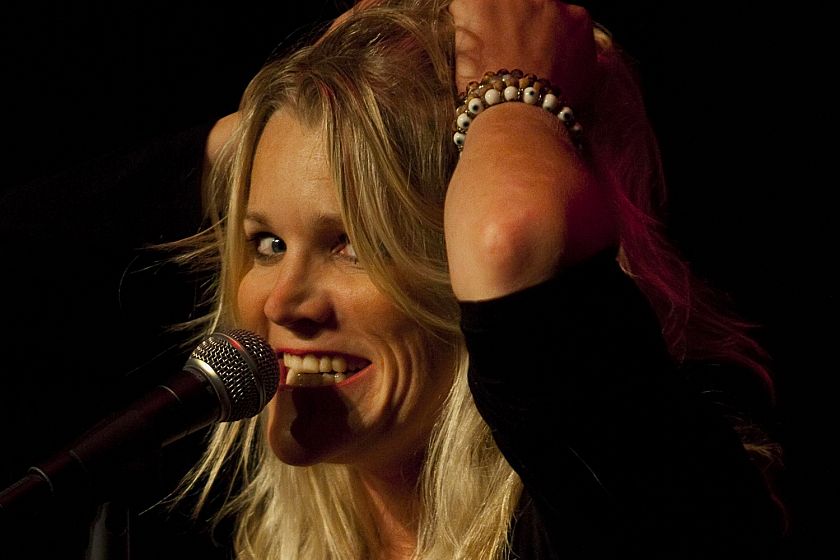 Cathy Richardson
Cathy Richardson
GRAMMY Nominated Rock Goddess Cathy Richardson has been busy. Chicago music fans will remember Richardson from the thousands of local club and festival dates she played with her namesake band from the 90s through the early 2000s when she was cast as Janis Joplin in the Off Broadway show Love, Janis and left her hometown to find her fortunes in New York City.
Richardson followed Love, Janis to San Francisco in 2006 and had lived there less than a year when she met Jefferson Airplane and Jefferson Starship founder, Paul Kantner. Richardson soon became the lead singer for Jefferson Starship and has been fronting the band for over nine years.
"I think there's a lot of people who think I left the Chicago area and never came back because I'm on the road so much, but I moved back in 2009," says Richardson from her home in suburban Elmhurst.
When Kantner passed away from complications after a heart attack in January of 2016, the future of the band was uncertain but Richardson cites a "divine intervention" from the original Rock Goddess, herself, Grace Slick, who granted the remaining members license to continue performing as Jefferson Starship.
A couple months later, Richardson received the phone call of a lifetime when Ms. Slick invited her to sing in her place when Jefferson Airplane received their GRAMMY Lifetime Achievement Award at the inaugural GRAMMY Salute to Legends Concert last April.
"I was out to breakfast having an otherwise normal day and China (daughter of Slick and Kantner) called and something like, 'Dude, I have amazing news. You're singing at the GRAMMY thing,' and I was like, "Wait, what?!" and then she put Grace on the phone. I had chills and tears in my eyes, it was totally surreal," recounts Richardson, a huge Slick fan who discovered Jefferson Airplane at an early age.
"When I was like 15 and I heard White Rabbit for the first time, it totally blew my mind. I bought the Worst of Jefferson Airplane record and I went into my room and played the song over and over so many times, my mom knocked on my door to ask if I was ok," Richardson laughs.
Slick was on hand to accept the award and watched from the wings as Richardson sang with remaining Airplane members, guitarist Jorma Kaukonen and bassist Jack Cassidy. (Airplane co-lead singer Marty Balin could not make the show due to illness.)
In a brief conversation with Ms. Slick moments before the band launched into the Jefferson Airplane classic Somebody to Love, Richardson recalls, "Grace leaned in and said to me, 'You know this song, right?' I laughed and said, 'Yes, I do and I'm going to sing the shit out of it for you!'"
The entire award ceremony and concert was filmed and premiered October 14, 2016 on a special 90-minute episode of Great Performances on PBS.
Although Jefferson Starship keeps an active touring schedule, Richardson still finds the time to play local shows- solo, with her own band and her latest Chicago-based project, the rootsy, bluesey jamband Nelson Street Revival.
"It's almost obnoxious for me to relay everything I have going on. Basically, I'm insane," jokes Richardson, who incidentally became the mother of two children in the last five years. "If rock and roll doesn't make you crazy enough, a three- and a five-year old will."
To add to the insanity, Richardson launched her ambitious Project 365 YouTube series, and is posting a song day, every day in 2017.
Richardson keeps a hectic touring schedule with Jefferson Starship, but for local music fans who want the chance to see Richardson live, there are plenty of opportunities on the horizon.

Then, there's the hugely popular monthly storytelling night, Voice Box, where Richardson provides spontaneous music (and the occasional personal story), now in its fourth year at Fitzgerald's Nightclub in Berwyn, the second Tuesday of every month.
"The story themes are song titles; I listen to the storytellers from the audience and then jump up and play a song inspired by their stories. The show kind of weaves itself together in the moment. I love the improv aspect of performing and Voice Box keeps me very sharp because I have to come up with a song on the spot… and then pull it off. Sometimes it's a song I wrote or just a classic song everyone knows, even if I've never actually played it before," says Richardson, "I just kind of jump off the cliff and hope there's a net."
Then there are the recording projects. Macrodots is a modern rock collaboration with guitarist/producer Zack Smith. The duo released their second album, Two, earlier this year. Although it's not available in stores, Richardson sells them at shows and on her website. Since the band isn't currently touring, Richardson plays the Macrodots songs with her Chicago-based band.
Richardson is also working in the studio with a young singer-songwriter named Maisie Bull, producing alongside Steven Gillis (Chicago studio owner and drummer, formerly of Filter and currently of Cathy Richardson Band).
"Maisie has an incredible voice and is a tremendous songwriter. She has a great career ahead of her," predicts Richardson.

Cathy Richardson

7:30 PM - 8:45 PM

Cathy Richardson

10:45 PM - 12:00 AM

Cathy Richardson

6:45 PM - 8:00 PM